Wealthtender is proud to include innovative financial technology companies like Wealthsimple among our advertising partners.


---

Wealthtender features many articles with ideas to help our readers become better investors, and as Derek describes (glowingly!) in this review, Wealthsimple is a service available in the U.S. and Canada that may be worth considering.


---

Wealthsimple offers a free savings account that pays a higher rate of interest than many banks with a $1 investment minimum. Wealthsimple makes money by charging a management fee when you let them invest your savings into ETF portfolios.


---

Ready to check them out? Click here to get started!


---

Already use Wealthsimple? Let us know in the comments section below!
Getting started with Wealthsimple
I first heard of Wealthsimple a couple of years ago, they've put out great advertisements in Canada. Within the last year I've really gotten familiar with Wealthsimple because I do have a personal account, but we also use it for our Financial Advising business.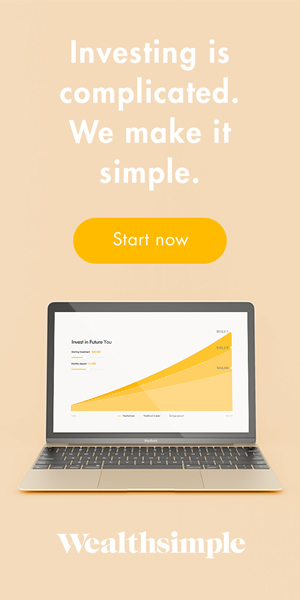 Here in Canada, our financial industry is monopolized by big banks, but in recent years there's been a huge push for better options. Wealthsimple being at the forefront of that. The average Management Expense Ratio (MER) Fee in Canada is around 2.4%, that means every year your return in lowers 2.4% (5% 'return' – 2.4% fee = 2.6% return). I don't believe a bank should be making as much money as I am from my own money.
Historically, few active manager strategies actually outperform the market. So for most people, investing in a low fee; passive investment strategy will give them their best returns. Naturally, that lead me to Wealthsimple.
Wealthsimple is a robo-advisor, meaning they utilize a ton of leading edge technology to give their clients a better, more customizable experience. Their onboarding process is online, completely paperless, and takes under 10 minutes to fully set up an account. The app and desktop version are very intuitive, easy to find what you're looking for, and contain so much information on your account.
Their main focus has been investing, but they also have a Smart Savings Account which pays more interest a year than most banks (no promo rate then a drop off to nothing). I love the Smart Savings account because it's a great way for people to save for short term goals (like saving for a purchase, or for someone to save money to pay their taxes).
Newer to their lineup is a Commission-Free Trading Account, and they recently bought a company called SimpleTax, which is an online tax software and is a pay-what-you-want deal (yes, pay $0, pay $50, pay anything you like — same service no matter what).
Using Wealthsimple
Wealthsimple's slogan is 'investing on autopilot' and it really holds true to how their platform is set up for use.
Wealthsimple has their own Passive Portfolios. Passive portfolios aren't actively managed — the portfolios are diversely invested throughout the world and follow the overall trends of the markets. This is great because for example the S&P 500 has averaged over 9% return per year over the last 90 years (is your actively managed mutual fund earning you over 9% a year?).
On an investing account it is so easy to link up your bank account in order to make automatic contributions when you want, so you can really get rich without knowing it.
They also have other features like:
Roundup — remember the days when you would pay with cash, bring home your change and throw it into a piggy bank or jar? Roundup is the 'modern spare change jar'. You can sync your credit or debit card to Wealthsimple, and when you make a purchase, it'll take whatever change is needed to roundup to the next dollar and invest it ($4.50 purchase, round up to $5.00, invests the extra $0.50). It's never going to be a huge amount, but overtime it adds up and you've saved all this money without putting in any effort.
Overflow — you can set up an amount you want to have in your bank account, and if your bank account goes above it, the technology will automatically transfers anything over to be invested. The easiest way to save money is to not spend it. So instead of having money 'burning a hole in your pocket', put it aside for your future self.
Socially Responsible Investing (SRI) — if you want to ensure you're investing in companies that align with your views, a SRI might be a great option for you. Wealthsimple has strict requirements for what companies need to do to be considered for their SRI portfolios. So you can take pride in knowing you're not only investing in your future, but in a better future.
Halal Investing — if investing in a portfolio that complies with Islamic law is important to you, Wealthsimple has Halal portfolios to meet your goals and personal beliefs.
Away from the personal side, Wealthsimple also works with financial advisors to provide their clients a better option, as well as having great Group Plans for employers to offer their employees. So it isn't one dimensional, they are creating better options across the board.
What I like most about Wealthsimple
I would say there are 3 main things I like most about Wealthsimple: ease of use, transparency, and performance.
Ease of use — it takes about 5 – 10 minutes to fully get set up on their platform, there's no paperwork, and any information associated with your account is always available to you. No more waiting on performance statements, or calling someone at a bank to talk to about your account.
Transparency — as I mentioned, all information is always available for you to see. Every fee taken out, dividends received, transfers, deposits, withdraws, daily updates on your portfolio performance, rebalances, cash invested, assets sold, asset allocation.
If I asked you: what are you paying in fees, what is your average return, or even what you're invested in — would you know? Most people don't know, and don't even know where to start to find out.
Performance — with a fee of just 0.5%, you keep more of your money. Historically, very few actively managed funds outperform the market, one reason is because the fees are so high. Even if you decide you want to set it up, get your automatic contributions going, and only look at it once or twice a year — you can! And you can rest easy knowing that no matter what happens, you're in great hands.
We all have to save money, invest money, and complete our taxes — and I believe Wealthsimple is one of the best ways to complete all three.
What I like least about Wealthsimple
This is a tough one, because there's nothing that really jumps out as something I do not like about Wealthsimple.
As a company, Wealthsimple is still very young, especially considering their success so far. It'll be really interesting to see how they develop and what other products or services they provide in the future. Do they branch into more day-to-day banking, mortgages, insurance, or other financial services?
In a recent interview, CEO Mike Katchen said he sees the company reaching millions of clients in the next 5 years, and $1 trillion under management in the next 15 years. Very aggressive goals for a company that continues to grow.
Who is Wealthsimple for?
I would recommend Wealthsimple to anyone and everyone. We all have to save money, invest money, and complete our taxes — and I believe Wealthsimple is one of the best ways to complete all three. For those people who want to take advantage of technology built in (Roundup, Overflow), it's a great way to get rich without knowing it. Or even those people who want to manage their own investments, commission-free trading is amazing.
If you do want to invest, but like having a Financial Advisor, Wealthsimple does have a number of Financial Advisors across Canada that use their platform to better serve their clients. Through Wealthsimple Advisors, you do have access to more fund managers with their own portfolios, so you have more options.
So if you're looking for an easier, more transparent, lower fee investment option, let me introduce you to Wealthsimple.
Who is Wealthsimple not for?
If you enjoy paying high fees that diminish your investment returns, if you don't like support when it comes to planning for your future, or if you despise technology, Wealthsimple might not be a great product for you.
But in all seriousness, nothing really comes to mind. A client of mine who has never owned a cell phone before, easily navigates the app on a desktop — so even if you're not tech-savvy, it's not even a limitation. Major banks and credit unions work with Wealthsimple to deposit money, so there's isn't something that comes to mind that tells me 'this would not be a great fit'.
Anything else?
For the past handful of years, Wealthsimple has been gaining serious traction and really changing the way Canadians invest. In an industry that is largely transaction based, and focused on making money, Wealthsimple flips the power back to the consumer to create a client needs priority approach.
If you couldn't yet tell, I'm a huge fan and advocate of Wealthsimple, and I can't wait to see what they can do in the future.
Ready to check out Wealthsimple for yourself? Click here to get started!
About the Author
Derek Condon
Winnipeg based Financial Advisor focusing on investments, financial planning, and mortgages. I prioritize education, because I believe the more we know, the more we all benefit. It allows me to help people make the most of their financial future. 
Disclaimer: The information in this article is not intended to encourage any lifestyle changes without careful consideration and consultation with a qualified professional. This article is for reference purposes only, is generic in nature, is not intended as individual advice and is not financial or legal advice.