To make Wealthtender free for readers, we earn money from advertisers, including financial professionals and firms that pay to be featured. This creates a conflict of interest when we favor their promotion over others. Learn more. Wealthtender is not a client of these financial services providers.
➡️ Find a Local Advisor | 🎯 Find a Specialist Advisor
Why do people retire in Texas? Let's discover the best places to retire in Texas and learn what makes the Lone Star State stand out.
There's no denying it: Texas is something of a utopia for retirees.
Not only does Texas offer fiscal incentives (did someone say "no state income tax"?), affordable housing, and a low cost of living, but it's also the second most diverse state in the country and boasts cities and suburbs that are wonderfully safe to live in.
Throw in the famous BBQ and Tex-Mex food, warm weather, booming economy, proud culture, and friendly locals (the Texas state motto has been "Friendship" for almost 100 years!), and you'll struggle to find many better places to spend your golden years.
All things considered, choosing to retire to Texas is easy!
The hard part is deciding where to retire in the Lone Star State. With so many options – all of which hold a unique appeal – it can be tricky to settle on one destination over another. Are you up for the challenge? In this article, we're going to reveal 15 of the best places to retire in Texas.
Let's dive in.
1. Houston
Big cities aren't for everyone. However, if you're a person who adores the energy, diversity, and opportunities they offer, then the city of Houston, 50 miles from Galveston and the Gulf Coast, could be an ideal place to retire in Texas. The 4th largest city in the US, Houston has a huge population of 6.6 million people!
For proof of its diversity, consider the fact that a staggering 145 different languages are spoken in the city. And, as you'd expect, there are all the usual big-city perks and amenities available to help you enjoy retirement. From a museum and theater district to a thriving food scene, an abundance of green spaces, and desirable recreation opportunities, you'll never be bored if you retire in Houston.
Another perk we should mention is the cost of living. Although Houstonians certainly don't live in the cheapest part of Texas, it remains affordable in comparison to other metro areas of a similar size. Combine that with its world-class healthcare facilities, and it's no wonder Houston remains a popular choice among retirees.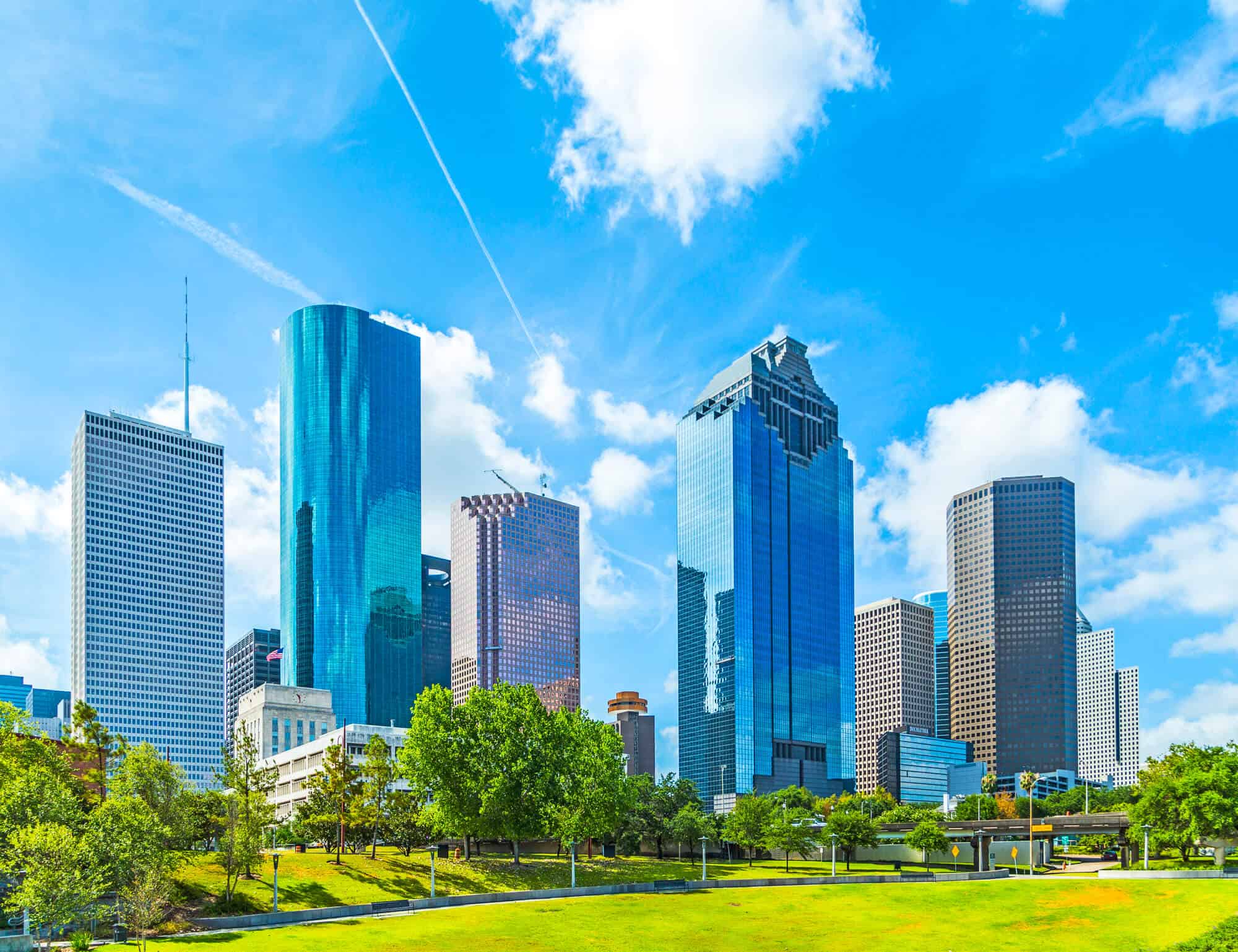 2. Beaumont
If you like the idea of city life but don't want the hustle and bustle of large population centers like Houston, San Antonio, or Dallas, take a look at Beaumont. While the city's crime rate leaves something to be desired, this East Texas city has a lot to offer.
Situated close to the border with Louisiana on the Neches River, it's a cultural hotspot with everything from quality restaurants and museums to various outdoorsy activities. You're also close to beautiful Lake Sabine with its saltwater fishing spots and access to the Gulf of Mexico. And, at 1.5 hours by car from Houston, it's only a stone's throw from big-city amenities.
Beaumont would also be a good option for Texas retirees with smaller budgets. Indeed, the cost of living here is significantly lower than in other areas of the state, with some reports claiming the median home price is over 50% less than the national average.
3. El Paso
Sticking with the budget-friendly theme, let's turn our attention to El Paso. This large city in the far southwestern part of Texas was recently voted the 5th best place to retire in the entire country! There are many reasons for its popularity, but one of the primary selling points is its affordability.
The cost of living in El Paso is hard to beat, with median home prices lower than most other metro areas in the US. Financial incentives aren't the only reason to move here, though.
El Paso would be a stunning place to retire and a haven for outdoorsy types. You'd have the vast Franklin Mountains State Park (i.e., the biggest urban park in the country) on your doorstep, complete with its millennia-old Native American pictographs and petroglyphs. Combine that with the 9 months of sunshine and warm weather, and you're in for a treat.
4. Brownsville
Moving to the very bottom of the state, we have the bustling border-town of Brownsville. Boasting significant historical sites, great bird-watching opportunities, numerous outdoor opportunities, and a year-round sub-tropical climate, there are definitely worse places to retire in Texas!
The cost of living is relatively low too. And, should you decide to settle here, you'd have beautiful Gulf Coast beaches (not to mention South Padre Island) to enjoy nearby. Because of its location, there's a fascinating blend of Mexican and Texan cultures as well – Spanish is widely spoken, for instance, and cuisine from both is available in abundance.
5. Corpus Christi
Thanks to its warm weather and lovely beachside location, Corpus Christi – sometimes called the "Sparkling City by the Sea" – has long been a popular vacation destination in Texas. However, for a variety of reasons, it's recently grown in peoples' estimation as a place to both live and retire too.
It isn't hard to understand why. First and foremost, Corpus Christi offers its inhabitants mile after mile of untouched coastline near the Gulf of Mexico. If you want sunshine, sand, and proximity to wildlife, then you don't have to go far to find it! With mild winters, the weather in Corpus Christi is first class all year round as well.
The general atmosphere's also worth mentioning. Full of southern charm, the city has a small population of around 327,000 people, which creates a laid-back, welcoming vibe. You'll be pleased to hear that housing's also cheap and that the city's safety rating, while far from perfect, could be a lot worse.
6. San Antonio
Do you like the sound of Corpus Christi's relaxing vibes but think you'd miss the excitement of bigger cities? Well, look no further than San Antonio. Although it's the biggest metropolis in the Texas Hill Country, it's somehow maintained an easy-going, small-town atmosphere.
The hustle, bustle, and amenities of big cities are all available. Incredible restaurants are around every corner; art galleries, theaters, and festivals are ubiquitous, and there are many historic sites and tourist attractions to enjoy (such as SeaWorld). Nevertheless, San Antonio's renowned for its relaxed nature – perhaps a result of its proud Spanish and Old West heritage.
Given its many positive qualities, you might be unsurprised to learn that San Antonio's one of the fastest-growing cities in America. If it sounds like your perfect place to retire in Texas, we suggest getting in soon – before the prices rise!
7. Brenham
Small towns in Texas don't get much better than Brenham. Located in the east of the state (it's just 74 miles from Houston), it's as charming as they come – with 100+ historic buildings adding to the unique and vibrant atmosphere.
Brenham's steeped in history, hosts all sorts of popular live events, has plenty of opportunities to indulge in a spot of retail therapy, and offers amazing food (and even better company) to those who visit. Oh, and how could we forget? It's the home of the famous Blue Bell Ice Cream as well!
While the cost of living is ever so slightly higher than in other parts of Texas, it remains quite affordable compared to the national average. All in all, it's hard to fault as a retirement destination – particularly for people who prefer a more sedate approach to life.
8. Dallas-Fort Worth
Dallas needs no introduction! Huge, bustling, and home to the Cowboys and Mavericks, it's a paradise for city-lovers and sports enthusiasts alike.
They say everything's bigger in Texas, and Big D proves it. In fact, the Dallas-Fort Worth area is one of the largest in the country, with a whopping land mass of 343 square miles. A booming Texas destination, if ever there was one, it offers a mass of cultural sites and activities, an endless list of dining opportunities, sporting events, and green spaces galore for when you need a dose of nature.
The main downside to retiring in Dallas is the rising cost of housing. Don't worry, it's still very reasonable compared to other metro areas in the US. However, prices are definitely increasing – especially in desirable areas like Highland Park and Frisco. In almost every other way, though, you'll be delighted by what Dallas has to offer.
9. Port Arthur
Love the ocean and like the sound of tax benefits? Check out Port Arthur. It's a bit like Florida, just without the alligators…or sky-high cost of living.
Once at the center of the world's oil refining industry, Port Arthur's now a bustling beach town with budget-friendly home prices to boot. Nature lovers abound, as do history buffs and foodies. However, while Port Arthur may lack the nightlife and entertainment you'd find in bigger Texan cities, we'd bet good money most people would love living here.
Retirees in Port Arthur are close to Sabine Lake and Sea Rim State Park; they have the aptly-named Pleasure Island at their fingertips and can spend their days exploring everything from botanical gardens and museums to historical monuments.
10. Granbury
Fun fact: Granbury was voted the best historic small town in America in 2019 and 2020! And it's easy to see why. This small town (its population is a mere 10,000 people) has an awful lot going for it – a rich culture, masses of fascinating Texas history, and oodles of southern charm.
For a small town, people who retire to Granbury have a lot to keep them occupied. Expect more 18-hole golf courses than you can shake a stick at, the gorgeous Granbury Lake to frolic at on warm weather days, a lively town square, and a host of brilliant breweries. Furthermore, if you ever tire of the small town scene and fancy a dose of big-city living, then Fort Worth isn't far away!
11. Fredericksburg
Named after Prince Frederick of Prussia, this popular 12,000-person town in the heart of Texas Hill Country was founded by German elites in the mid-1800s. Located 75 miles west of Austin, these Germanic routes are on display at every turn – from its unique 19th-century German architecture and restaurants to the local dialect, Texas German.
However, history isn't the only thing it has to offer retirees. Fredericksburg has pristine peach groves and over 50 wineries! Head downtown, and you'll find 100+ antique stores, candy stores, boutique stores, and art galleries. Then there are military museums, farmer's markets, and the lively Roxbox Theater to visit, among many others. As for the weather, the humid subtropical climate blesses the town with hot summers and mild winters.
Those perks come at a cost, though…literally. Fredericksburg's cost of living is 16% higher than the national average, with a median home price ($475,000) that'd stretch the pockets of most everyday Americans.
12. Austin
Austin's regularly voted one of the best places to live in the entire country – let alone the state! It has a booming economy, a strong job market, plenty of green open spaces, endless entertainment options (it's literally known as the "Live Music Capital of the World"), a quirky culture, and a welcoming atmosphere that attracts people from across the country, including retirees.
Despite the cost of living being higher in Austin than in other parts of Texas, there's no shortage of incentives to relocate here in your golden years. The weather's good throughout the year, the amenities are unparalleled, and most neighborhoods have high-quality healthcare facilities available. The well-known University of Texas-Austin also offers 6 tuition-free credits per semester to people aged 65+. For these reasons and more, Austin is surely one of the best places to retire in Texas!
What do Financial Advisors in Texas Say About Retiring in Austin?
Jane Mepham, CFP®
Financial Planning for Professionals & Foreign-born Individuals (Immigrants).
Austin is the city to retire to in Texas. If you want a physically active life, it's all here in the city and in the suburbs. It has some amazing trails starting with Lady Bird Trail downtown, great parks, lakes, and a real healthy vibe, subtly magnified via great restaurants. The tech culture is a testament to the city's diversity and it's relatively warm all year round. If you like winters and winter sports, Austin is not for you.
Show more
Jane Mepham, CFP® | Elgon Financial Advisors
Richard J. Archer, CDAA, CFA, CFP®, MBA
For High-Achieving Professionals Who Want To Optimize Their Peak Earning Years
Austin is the best place to retire. It's a lively city with constant change and growth. New restaurants, music, and events all the time. The big University of Texas campus in the center of town attracts the best from across the state. My favorite spot to relax is Ladybird Lake. The views of the hills and magnificent homes are amazing and the surfing and swimming help cool you off in the hot summer heat.
Show more
Richard J. Archer, CDAA, CFA, CFP®, MBA | Archer Investment Management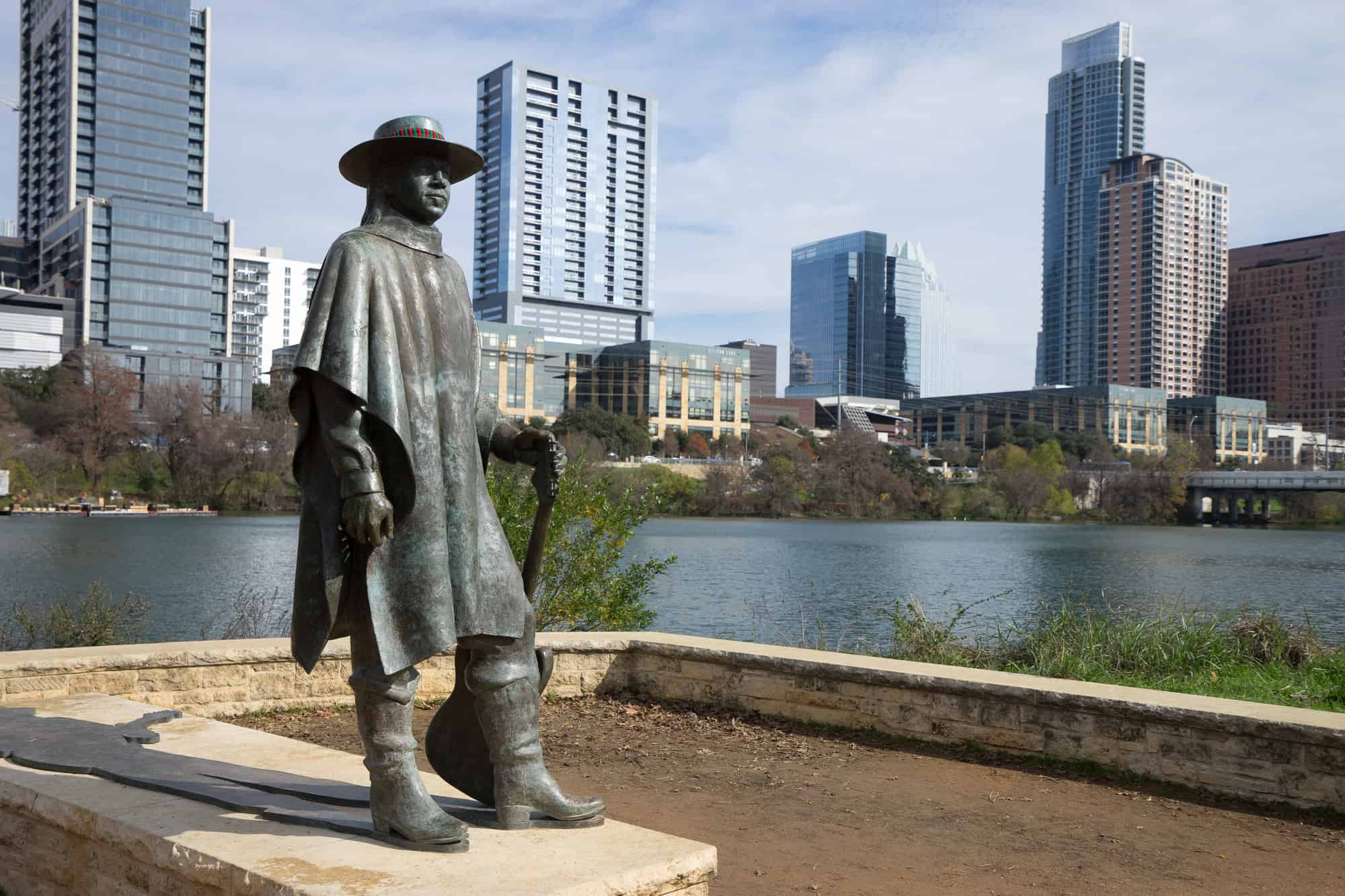 13. Katy
Looking for somewhere to retire that has a low tax burden? Easy access to quality medical care? How about opportunities for recreation and social activity?
If so, cities to retire in Texas won't get much better than Katy.
Located in Waller County, this place ticks those boxes and many more. It's jam-packed with medical centers and boasts the most recreational centers (per 1,000 residents) of anywhere else in the state. Yet Katy also offers first-rate restaurants, retailers, parks, and venues for retirees to enjoy. At only 30 minutes away from Houston by car, you're never far from the excitement of big-city life either.
14. McAllen
McAllen may have a reputation as a simple border town. But don't be fooled! This vibrant city in Hidalgo County has a rich culture, vibrant atmosphere, and fantastic quality of life. The slew of medical facilities, welcoming bicultural community, reasonable cost of living, and low median home price don't hurt either!
Located just 80 miles off the Gulf of Mexico, along the Rio Grande, McAllen's climate is enviable as well. In fact, its mild fall and winter convince many winter Texans to visit every year – injecting fresh life into the city (and money into the local economy).
One slight drawback to life in McAllen is its distance from larger cities, though. San Antonio's the closest metropolis, but it's a 4-hour drive away. While the lifestyle in McAllen's hard to beat, retirees who relish the buzz of big cities may struggle.
15. San Marcos
The county seat of Hays County and home to Texas State University, San Marcos is actually a thriving college town in the Southwest. However, students aren't the only ones who like living here. Thanks to its strong economy, low crime rate, picturesque surroundings, and tax-friendly nature, anyone (especially retirees!) can move to San Marcos and expect to love it.
That's particularly true if you're into water sports. With the stunning San Marcos River running through its heart, it's a popular place to go tubing, fishing, swimming, and canoeing.
If the weather ever deviates from its usual warmth and sunniness, there's plenty to do indoors too. Get ready for historical tours and museums, top-notch breweries, shopping and dining options, plus regular sporting events courtesy of Texas State. Last but not least, you're only an hour from both San Antonio and Austin – ideal for retirees who want easy access to major cities.
Find a Financial Advisor in Texas
Remember the Best Places to Retire in Texas
As you can tell, the list of reasons to retire to the Lone Star State is both extensive and convincing. From tax breaks and finger-licking food to cultural draws and an enviable cost of living, it's no surprise that so many people trust Texas to see out their golden years. Alas, there are so many appealing places to live in this enormous state that choosing somewhere to settle can be a challenge!
As Darryl Lyons, CEO of San Antonio-based PAX Financial Group, says, "Finding the right retirement spot in Texas requires careful consideration of weather, density, access to health care, and community. There are many unique pockets of subcultures to consider."
That's why we wanted to put this post together about the best places to retire in Texas. If you've been caught in this particular conundrum, then we hope it's helped you make up your mind.
While retiring in Texas may generally cost less than living elsewhere, it can still be a major adjustment impacting your budget and quality of life. Hiring a financial advisor can help you navigate the journey so you can enjoy decades in retirement in Texas with less money stress.
You'll find financial advisors featured on Wealthtender based in Texas and others who can meet with you online no matter where you live today or tomorrow. Be sure to ask the right questions and understand the costs of hiring a financial advisor before deciding on the right financial advisor for you.
Useful Resources for New Texas Residents
Once you arrive in Texas, you'll want to get settled in quickly so you can enjoy the best the State has to offer.
The following resources are useful no matter where you choose to live in Texas:
Find Your Next Financial Advisor on Wealthtender
📍 Click on a pin in the map view below for a preview of financial advisors who can help you reach your money goals with a personalized plan. Or choose the grid view to search our directory of financial advisors with additional filtering options.